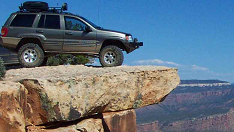 Welcome to the new home page for the Grand Slam West Information page. We are working on revising the website and wanted to get the basic info published so that folks can start making plans and reservations. Registration is open for event, BBQ and T-Shirt sales.

Important note: The sturcture of Eventbrite for seling items with multiple colors and sizes dictates that these happen at the same time as the event ticket purchase. Please plan on at least purchasing your event ticket and T-Shirts at the same time.

Planning work for 2018's 21st Year has started - Dates Set and registration open later.

Who: Jeep Grand Cherokee Drivers and Cousin Rigs - Commanders (XK)
What: 21st Annual Grand Cherokee trail runs and event
When: June 12 - 16, 2018
Where: Moab, Utah


We will be making updates please keep checking back as we get more details as well as more pages added and updated and formated better.

We look forward to having you join us for the 21st Annual Grand Slam West with your Grand Cherokee or Commander in Moab in June 2018.